Welcome!
Founded in 1971, the Genealogical Society of Vermont is dedicated to assisting genealogists everywhere who are researching their Vermont ancestry.
Genealogical Society of Vermont
P. O. Box 14
Randolph, VT 05060-0014
---
*** SAVE THE DATE ***
The Fall Meeting of the GSV will be on Saturday, October 29, 2016. The location and speakers are being worked on now. Check back later for details.
---
The Fall 2014 (vol 19 # 2) issue of Vermont Genealogy was mailed out in early January. All GSV members as of Fall 2014 should have received this issue. Let us know if you haven't received yours. The Table of Contents for this issue is shown via the Publications button. The Spring 2015 issue is now (July 2016) at the printers.
---
Check out our Queries page and see if you can help anyone!
---
We are on Facebook!
http://www.facebook.com and search for
"Genealogical Society of Vermont"
(a Microsoft Power Point presentation given at the fall GSV meeting by Scott Reilly from the VT State Archives)
[Click the link & save to your computer; then open up from within PowerPoint.]
---
The Closing of the National Archives in Pittsfield, Massachusetts
The National Archives at Pittsfield has closed as of September 16, 2011.

The remaining National Archives branches within the Northeast Region are the National Archives at Boston, located in Waltham, Massachusetts, and the National Archives at New York City.

NARA-Pittsfield is in the process of transferring its microfilm room collection to the Berkshire Athenaeum, Pittsfield's public library. The collection includes 71,000 rolls of film that contain census records, passenger logs, and other items of interest to those researching their family histories. After the material has been relocated and processed, the collection will be available to researchers via delivery to the Athenaeum's first floor, where state of the art digitizing microfilm readers/scanners are available.
---
*** Message from GSV President ***
---
Vermont Vital Records 1909-2008
Ancestry.com now has Vermont Vital Records from 1909-2008 available. This is a great new resource, especially for our members living far away from Vermont. The database includes births, marriages and deaths, and includes the images that would be seen if you had access to the microfilmed records at Vermont Archives. For those who have researched at Vermont Archives, you know of the frustrations of trying to decipher poor microfilm images. The records have all been digitized and should be much easier to view.
---
Recently Posted Content
Benjamin Carpenter of Guilford, VT
Marriages in Montpelier, Burlington and Berlin, VT 1789-1876
Index to VT Historical Newspapers, by Locality
See under Publications for Table of Contents for Current Issue of Vermont Genealogy (Fall 2013) and Topical Index to VG through Fall 2013 (Vol. 18). Now also are posted Name Indices for every year.
---
VT Families in 1791 Project
The Vermont Families in 1791 Project is under the new editorship of Jonathan W. Stevens, a professional genealogist and the current President of GSV. The format to be used in Volume 3 has been updated, and is based on the standard used in Vermont Genealogy, but with inline notes for citations. Submissions for census entrants should be 2 to 4 pages in length, and should be thoroughly documented. For the format to follow see this example. For further information regarding format and submissions, the editor can be reached at stevens@vermontel.net.
(See under "Publications" for families listed in Volumes 1 and 2.)
---
*** GSV Members Section ***
We now have a "members-only" section of this website with Vermont-related Content. If you have trouble logging in, please contact Diantha Howard at the email address on the bottom of this page.
As of 6-15-2010, this page will now show your membership expiration date.
Recent updates include:
Genealogical Abstracts from the Orleans Independent Standard , Irasburgh, Vermont, for the years 1856-1863 (posted Nov. 2012)

Index to Genealogical Gleanings from the Aurora of the Valley Newbury, VT, 1852 - 1855 (posted October 2012)
Sept. 2015 GSV Newsletter (posted October 2015)
Ability to search Names being researched by other members (January 2011)
---
For genealogical inquiries, check the Bennington Museum Library. (See their web page, or "Vermont Links" to the left, for information on their research policy and fees.)

For every subscription to Family Tree Magazine through this link, $6 will be donated to the GSV and $6 to the Federation of Genealogical Societies.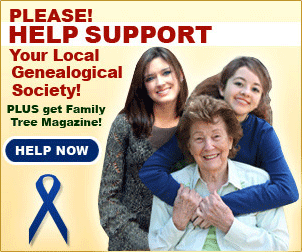 ---
Page last updated 11 July 2016